Unleash Your Perfect Smile with Miami's Top Porcelain Veneers Specialists
In the heart of Miami, we are more than just a dental clinic. We are your partners in transforming your smile into a work of art, combining the best of aesthetic dentistry with exceptional care. Discover the magic of porcelain veneers and how they can bring your smile to life.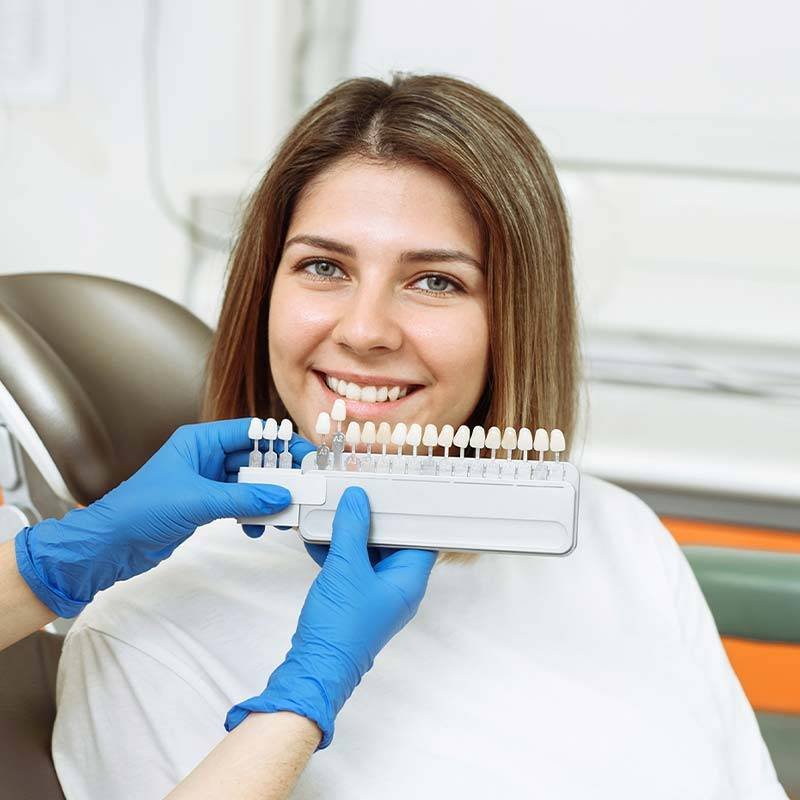 Why Choose Porcelain Veneers?
Porcelain veneers are a fantastic way to correct a variety of dental imperfections. From minor misalignments to discoloration, our expert team can revamp your smile with this minimally invasive and highly effective procedure.
As one of Miami's leading dental clinics specializing in porcelain veneers, we take pride in our unparalleled level of expertise and patient care. Our seasoned team of dental experts will ensure you receive the best care and results.
Karina Morales
2023-05-02
The best dental experience I have ever had. The staff was so friendly and accommodating. They treated me like family, with dignity and loving care, making sure I wasn't over paying and getting unnecessary treatment (being that I don't have insurance). Truly grand care and experience. 10/10 recommend
Couldn't be happier of finding Dr. Santiesteban and her team! The staff is very friendly and the office clean and organized. Recommend!!!
Dany Baxter Music
2023-03-21
Excelente servicio y muy profesional ,muy agradecido con su excelente trabajo.recomiendo este sitio 100%..gracias 🙏🏼
Yunior Castillo Gonzalez
2023-02-26
La atención es estupenda, siempre tratan de ayudarte y que salgas con una linda sonrisa de felicidad en el rostro, amo a ese colectivo
I want to recommend this clinic for many reasons. Its staff is wonderful, very professional, friendly, caring, and polite. Dr. Santyesteban is excellent, she explains all the procedures and possible treatment options. This clinic has the best prices of all the clinics that I have visited in Miami, they also give you discounts and always have promotions. Anyone who wants to have a wonderful experience in a dentist who visits ADC Dental Care, you will not regret it! Highly recommended⭐️⭐️⭐️⭐️⭐️
Magaly Duany Gonzalez
2023-02-10
Me gusto la atención de la clínica felicitaciones para ese equipo.
Lo mejor de lo mejor. Profesionales. Super amables. Financean. Los precios super buenos.. siempre voy a recomendar a esta clinica ayudan alas personas que hoy dia eso poco se.. lo mejores
FAQs about Porcelain Veneers
What are porcelain veneers?
Porcelain veneers are thin, custom-made shells of tooth-colored porcelain designed to cover the front surface of teeth to improve their appearance.
Why should I choose porcelain veneers?
Porcelain veneers offer a long-lasting solution for a range of dental imperfections, from discoloration to gaps, and they can be customized to match the color, shape, and size of your natural teeth.
Are porcelain veneers safe?
Absolutely. Porcelain veneers are a safe and proven dental procedure that has been in use for decades. Our experienced team prioritizes your health and safety in all treatments.
How long do porcelain veneers last?
With proper care, porcelain veneers can last up to 15 years or longer. They are a durable and long-term investment in your smile.
How do I maintain my porcelain veneers?
Maintaining porcelain veneers is simple - regular brushing, flossing, and dental check-ups are all it takes to keep them looking their best.
Are You Ready to Take Control of Your Smile and Your Life?
Ready to transform your smile and boost your confidence with porcelain veneers? Don't wait another day to unveil the smile you've always dreamed of. Contact us now to schedule your free consultation!